Safety
Your safety is of paramount importance to us and that's why we take the greatest care to ensure that all of our equipment is up to date and in good repair.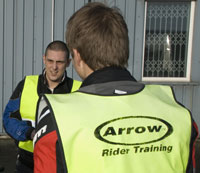 Get the best instruction and the best equipment from Arrow Rider Training.
We only employ the best and most experienced instructors who are all Driving Standard Agency approved, so whatever your level of riding you will be in safe hands during your time with Arrow Rider Training.
All of our training takes place at the DSA site in Chester, so you will begin your training in the best equipped and safest off road site in the Chester and Wirral areas.
Not only that, when you come to take your test you'll know the test venue like the back of your hand so you will feel more relaxed and confident, which makes for safer riding.
Quality instruction & equipment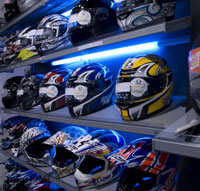 A great range of new safety equipment available onsite.
We always maintain a maximum ratio of two instructors whilst out on the road, which not only ensures maximum levels of safety, but also ensures that you are receiving the best tuition possible.
Our instructors will be in constant radio contact with you throughout your time on the road and should you need any safety equipment during your time with us, we have a range of essentials such as waterproofs, jackets and gloves available for use.
If you prefer, we also have a great range of safety equipment and accessories available for purchase on site.